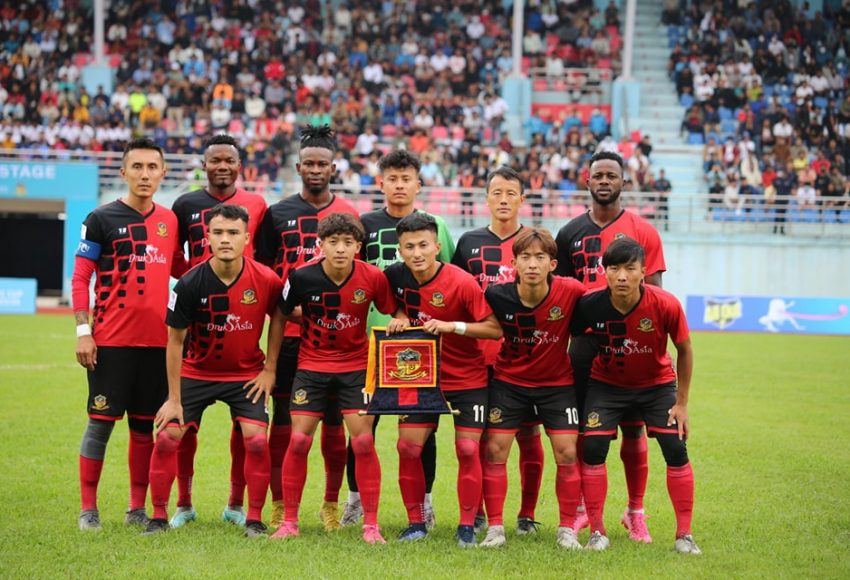 Paro's Thrilling Journey in AFC Cup: Battling odds in Preliminary 1 match Against Machhindra FC, Nepal.
The stage was set at the Dasharath Rangasala for a gripping encounter between Paro, a team hailing from Bhutan, and Machhindra FC, a formidable opponent from Nepal, in the AFC Cup Preliminary 1 match on the 8th of August, 2023. As the rain relentlessly poured down for three consecutive days, the once lush natural turf transformed into a challenging battleground, making the odds even more daunting for Paro, a team accustomed to the comforts of artificial turf.
The kickoff saw Paro struggling to find their footing on the unpredictable ground. With official training being denied a day prior due to the dismal condition of the pitch, the first half was an exercise in adaptation for the visitors. However, just eight minutes into the game, Paro stunned the hosts with a skillfully executed goal, sending ripples of excitement through their loyal supporters.
Machhindra FC, refusing to be outdone, mounted a swift response within eleven minutes, leveling the score. Paro's struggles to cope with the terrain were evident as they found it difficult to play their characteristic fast-paced game. Taking advantage of the situation, Machhindra managed to capitalize with two more goals before the halftime whistle blew.
For Paro, the uphill climb seemed relentless as they assessed both the scoreline and the deteriorating field conditions. However, something remarkable transpired during the halftime break. The second half saw a completely rejuvenated Paro side taking the field. Gone were the hesitations and uncertainties of the first half. Instead, the visitors created numerous scoring opportunities and seized control of the momentum.
In the 70th minute, Paro's relentless efforts bore fruit when their player, Evan, found the back of the net with an impressive display of high-paced gameplay. The relentless pressure on the host side was palpable, as Machhindra appeared subdued and on the back foot for the majority of the second half. While there was a golden opportunity for Machhindra to score an easy goal, the host's performance was overshadowed by Paro's spirited comeback.
As the match progressed, Paro continued to press forward, keeping the hosts on their toes. It was a testament to their determination that, had it not been for a crucial save during the match, the game could very well have ended in a draw and moved into extra time. Such was the intensity of Paro's push that, considering Machhindra's exhaustion, it's highly likely that Paro could have secured the victory in the added time.
However, as the final whistle blew, the scoreline stood at 3-2 in favor of Machhindra FC. It was undoubtedly a hard-fought contest that showcased Paro's resilience and potential. As the team reflects on this match, it becomes clear that there is room for improvement if they intend to compete at the AFC level consistently.
The AFC Cup Preliminary 1 match against Machhindra FC will be etched in Paro's journey as a testament to their ability to adapt, their unwavering determination, and the challenges they overcame amidst adverse conditions. As they move forward, Paro's players and fans alike can take pride in their spirited performance, knowing that with continued dedication and growth, greater successes lie ahead on the horizon