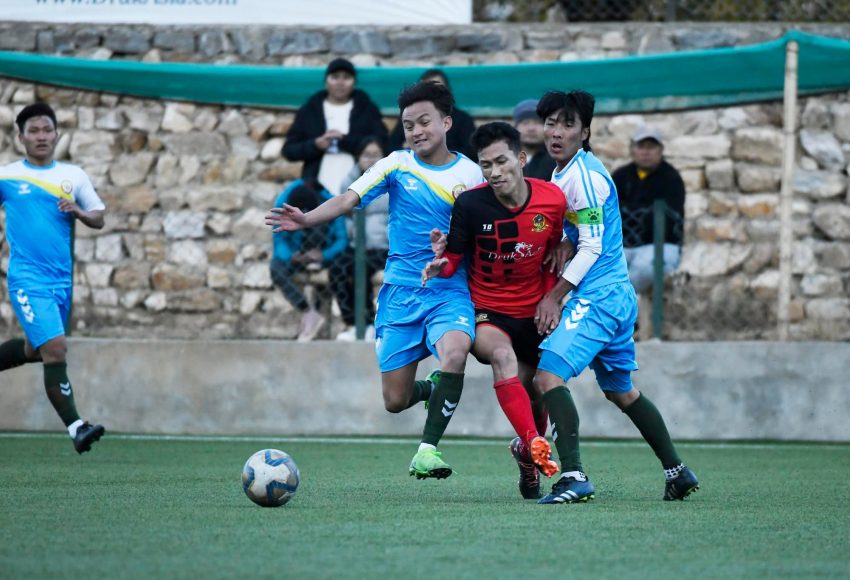 INTERVIEW WITH PHUB THINLEY
Interview with Mr. Phub Thinley, Professional Football Player
Today we have the pleasure of interviewing Mr. Phub Thinley, a professional football player from Paro FC. Let's dive into his journey of becoming a successful football player.
𝐐.𝐖𝐞𝐫𝐞 𝐲𝐨𝐮 𝐚𝐥𝐰𝐚𝐲𝐬 𝐢𝐧𝐭𝐞𝐫𝐞𝐬𝐭𝐞𝐝 𝐢𝐧 𝐒𝐩𝐨𝐫𝐭𝐬? 
As a science student, particularly pursuing mechanical engineering, I never thought I would choose football as my career. However, everyone in my community is very passionate about sports. 
𝗤.𝗜𝘁 𝗶𝘀 𝘁𝗿𝘂𝗲 𝘁𝗵𝗮𝘁 𝘆𝗼𝘂 𝘄𝗲𝗿𝗲 𝗺𝗼𝗿𝗲 𝗶𝗻𝘁𝗼 𝗰𝗿𝗶𝗰𝗸𝗲𝘁 𝗶𝗻 𝘆𝗼𝘂𝗿 𝗲𝗮𝗿𝗹𝘆 𝗱𝗮𝘆𝘀? 
Until 12th grade, I was into cricket and even represented Bhutan in the under-16 and under-19 age groups. Football was not my first choice at that time. 
𝗤.𝗪𝗵𝗲𝗻 𝗱𝗶𝗱 𝘆𝗼𝘂𝗿 𝗿𝗲𝗮𝗹𝗶𝘇𝗲𝗱 𝗼𝗿 𝗴𝗼𝘁 𝗶𝗻𝘁𝗼 𝗽𝗹𝗮𝘆𝗶𝗻𝗴 𝗳𝗼𝗼𝘁𝗯𝗮𝗹𝗹 𝗮𝗻𝗱 𝗵𝗼𝘄 𝗱𝗶𝗱 𝘆𝗼𝘂 𝗲𝗻𝗱 𝘂𝗽 𝗽𝗹𝗮𝘆𝗶𝗻𝗴 𝗳𝗼𝗿 𝗣𝗮𝗿𝗼 𝗙𝗖?
My interest in football grew during my college days, and after completing my studies, I was called for a trial with Paro FC and got selected. It was both my debut and the club's debut in the National League back in 2018.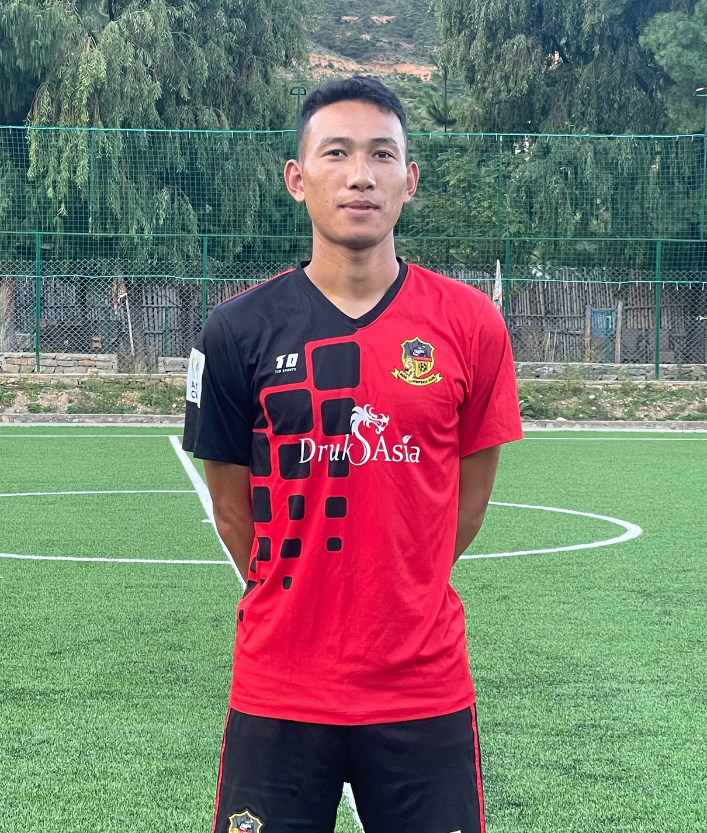 Q: What has been your biggest accomplishment as a football player so far?
My biggest accomplishment so far has been winning the Bhutan Premier League with Paro FC in 2019. It was a proud moment for me and my team as it was the first time in the club's history that we won the league.
𝐐. 𝐇𝐨𝐰 𝐦𝐚𝐧𝐲 𝐠𝐨𝐚𝐥𝐬 𝐝𝐢𝐝 𝐲𝐨𝐮 𝐬𝐜𝐨𝐫𝐞 𝐟𝐨𝐫 𝐲𝐨𝐮𝐫 𝐜𝐥𝐮𝐛 𝐚𝐧𝐝 𝐜𝐨𝐮𝐧𝐭𝐫𝐲? 
So far, I have scored 33 goals for the club and 1 goal for the country in the South Asian Games against Maldives.
𝐐. 𝐖𝐡𝐚𝐭 𝐝𝐨 𝐲𝐨𝐮 𝐥𝐨𝐯𝐞 𝐝𝐨𝐢𝐧𝐠 𝐛𝐞𝐬𝐢𝐝𝐞𝐬 𝐟𝐨𝐨𝐭𝐛𝐚𝐥𝐥?
In my leisure time, I love spending time at the gym and keeping myself busy with short-distance run, especially in the evenings. 
𝐐.𝐈𝐬 𝐭𝐡𝐞𝐫𝐞 𝐚𝐧𝐲𝐭𝐡𝐢𝐧𝐠 𝐲𝐨𝐮 𝐰𝐚𝐧𝐭 𝐭𝐨 𝐬𝐡𝐚𝐫𝐞 𝐨𝐫 𝐬𝐚𝐲. 
Throughout my five-year journey in football, I have been fortunate to not encounter any major injuries. It has been a wonderful ride so far, and I owe all the credit to Paro FC, my family, friends, and everyone who has supported me along the way. I always dream of contributing to my country and community in my own small way, so I hope to receive the same support from everyone. 
Q: What advice would you give to young aspiring football players?
My advice to young aspiring football players would be to work hard and never give up on your dreams. It's important to have a passion for the sport and to be dedicated to training and improving your skills. Also, always believe in yourself and never let anyone tell you that you can't achieve your goals.
Thank you, Mr. Phub Thinley (also know as Bonks) for sharing your inspiring journey with us. 
It's impressive to see how you balanced your academic pursuits with passion for sports and became a successful footballer. Your dedication to training is evident from your achievements, and it's great to see that you enjoy keeping your fit and active even during leisure time. We wish you all the best in your future endeavors and hope you continues to make your club, country and community proud