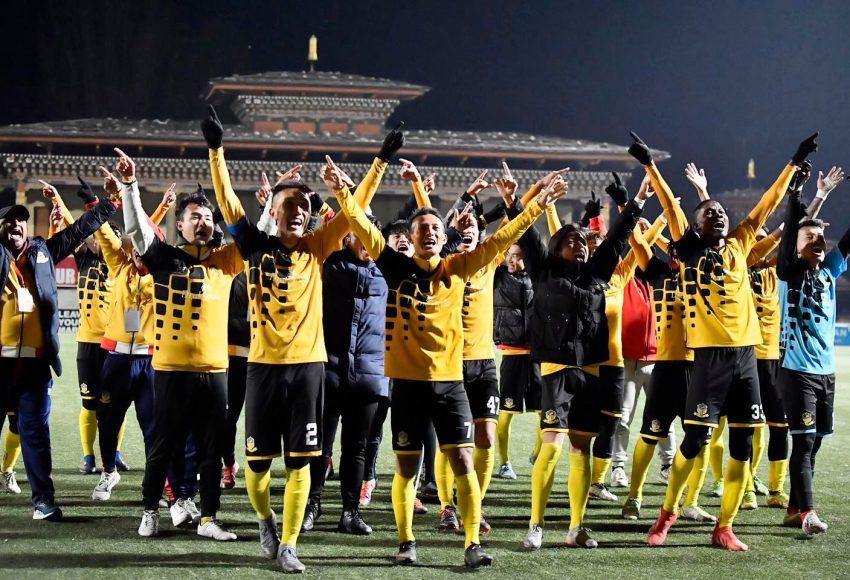 Thank You – BPL 2022 Season
THANK YOU !!! 
Paro Football Club would like to extend a sincere "THANK YOU" to our generous Sponsors for the 2022 Season.  The success Paro FC achieved would not have  been possible without the support of our sponsors. To our players, coaches, Paro FC staff,  fans, community, families members, and volunteers – it is our team effort and sacrifice that we all made for Paro FC. We look forward to the same energy and support in the 2023 season. 
As a club, we appreciate and treasure the efforts provided by our President, Vice President, Board of Directors, Managers, Media, hospitality staff, volunteers, family, medical staff, and technical staff. We encourage all our fans to show their appreciation to all !!! A BIG THANK YOU! 
We truly appreciate the Bhutan Football Federation, Bank of Bhutan, Bhutan Telecom, Paro Dessup, and Paro Police for successfully conducting BoB Bhutan Premier League 2022 season! Our appreciation and Thank you for your continued support. 
We applaud all BPL clubs, coaches, and management for the sacrifice and effort put in to develop Bhutanese football. 
Finally a special mention of all working tirelessly behind the scene.  
SPONSORS: 2022 SEASON
1. Druk Asia ( Bhutan Travel Specialist) 
2. Chharee Traders 
3. Noryang Hotel ( Thimphu) 
4. Tashi Namgay Resort ( Paro)
5. AAA Education & Migration Consultants
6. Bhutan Ecologic 
7. Druk EcoTec
8. Green Kitchen 
9. Penchu Boutique (Paro) 
10. Namgay Heritage Hotel ( Thimphu) 
11. Hotel White Tara ( Punakha) 
12. Namgay Artisanal Brewery 
13. Penchu Sales 
14. Mindu Construction Pvt Ltd ( Paro) 
15. 8 Heaven ( Convenient Store)
16. Jamden Sales 
17. Namgay Import & Export  (Garment Store) 
18. NWD ( Garment Store) 
19. Happy Fashion & Style ( Garment) 
20. Basemark ( Garment ) 
21. Orchid Lifestyle ( Home Decore ) 
22. Euden Pem Garment 
23. 1 Step Shop ( Kids toys & Garments) 
24. Yeshi Dorji Mall ( Grocery ) 
25. Nidup Tshongkhang ( Fruits Sponsor)
TECHNICAL TEAM 
1. Torsten Frank Spittler ( Technical Director) 
2. Puspalal Sharma ( Head Coach)
3. Gopal Rai ( Assist  Coach / Grassroots Head)
4. Indra Gurung ( Goalkeeper coach/ Youth Head) 
5. Tandi Bidha ( Women Coach ) 
6. Dawa Zangpo ( Women Assistant Coach/ Academy Coach) 
7. Aita Raj Gurung (Academy Coach) 
8. Ugyen Dorji  ( Academy coach ) 
9. Rigzin ( Team Physio) 
10. Lhab Dorji (Team Dr)  
11. Lhab Tshering ( Media) 
12. Victor Gurung ( Media & Marketing Consultant)
13. Tenzin Tashi ( VP women & Team Manager for men's team ) 
14. Kuenga (Assistant team manager) 
15. Kezang Galey (Women Team Manager) 
HOSPITALITY TEAM 
1. Tshering Bidha ( Cafe & Souvenir manager) 
2. Choki ( cafe chef ) 
3. Sonam Wangmo ( cafe steward )
4. Meena ( Ground steward) 
BOARD OF DIRECTORS 
1. Karma Jigme ( President) 
2. Tenzin Jamtsho ( Vice President)
3. Pasang Dorji 
4. Tsheltrim Dorji
5. Chencho Norbu
6. Dorji Gyeltshen 
7. Jigme Namgay
8. Pema Dorji
9. Passang Dorji