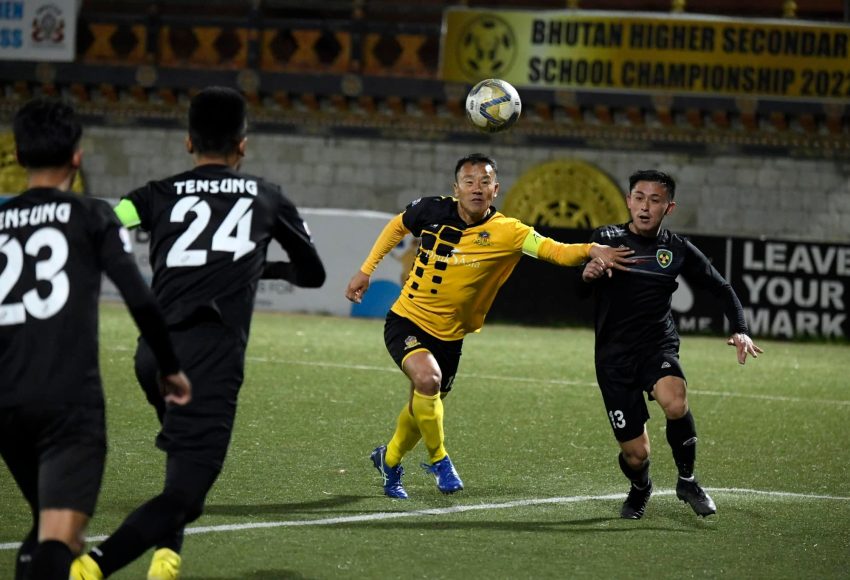 Paro FC displays grit against Tensung
With the start of second league, Coach Puspa Lal praised his players for physical dominance and mental presence.  Yesterday's match against Tensung FC displayed the winning characters of our team. 
4-0 at their own home ground against physically strong team, and specially having to outplay the coach who had previously assisted Puspa lal at Paro FC is not an easy task. 
An early six minutes tap-in from skipper Kazou Homma proved to be the crucial. For a goal to be perfect, a build-up must be flawless, and it was so – the long rage clearing pass from Dang to Chencho Gyeltshen, who speed past Tensung defense, and a low ground cross made all the difference. 
Game against Tensung saw good number of players rotation, Coach says " Some substitution was done for technical reason, few not available due to minor injuries, and also to give playing time to others to keep them game fit ".
Second goal for Paro was a bit of luck and a constant pressure for another goal. Florent's long over head pass to Dang slip through legs of Tensung goali, which  resulted from Dang's high press on Tensung goali.     
Before half-time, numerous chances were created and we could have easily added few more goals, but Tensung's stubborn defence kept the game alive and entertaining. However, right before halftime whistle, the poor 'Penalty area' clearance, and a perfect outside foot kick from Tsheltrium Namgyel found the back of the Tensung net making it 3-0 at halftime.
After halftime, Paro FC played cautiously to maintain clean-sheet and several tactical changes were made to have control  over the game. Nevertheless, equal goal scoring chances were created after the halftime, and penalty was as a result of constant attacking pressure. Kazou stood up for the occasion, and as always unhurriedly netting his second and fourth for Paro FC. 
Next on 22nd we play the BFF academy at Changlimithang Stadium. The young and energetic team capable of upsetting any BPL teams – a team one should never underestimate.