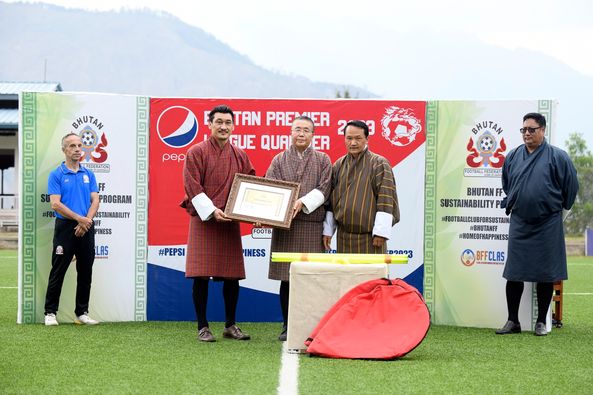 Paro FC wins Prestigious Sustainability Clubs Award
Paro Football Club has been recognized and honored with the Top Sustainability Clubs Award for the 2022-2023 season by the Bhutan Football Federation (BFF). This award acknowledges the club's exceptional dedication to sustainability goals and its alignment with the three pillars of the Sustainable Development Goals (SDGs): Sustainable Cities and Communities, Responsible Consumption and Production, and Climate Action.
Paro FC emerged as one of the two outstanding finalists after a rigorous assessment conducted by the Club Licensing Section in the Competition Department. Alongside Thimphu City FC, Paro FC demonstrated commendable initiatives and activities related to sustainability, impressing the expert panel during field visits.
To determine the ultimate winner, both clubs were invited to deliver comprehensive presentations before the panel. After careful deliberation, Paro Football Club was selected as the recipient of the Top Sustainability Club Award for the 2022-2023 season. The club has showcased dedication to fulfilling all three identified SDGs schemes: Climate Change, waste management, and sustainable cities and communities.
Paro FC has been proactive in incorporating climate action into its daily activities since its inception in 2018, beginning with simple initiatives like the use of reusable water bottles and environmentally friendly construction materials. The club's President, Karma Jigme, who holds a master's degree in conservation, has been instrumental in driving the club's environmental sustainability goals.
Thimphu City Football Club, while being the runner-up for the overall Sustainability Project, received recognition as the Top Waste Management Club and Top Advocacy Club. The club has focused primarily on waste management and promoting sustainable cities and communities.
As a gesture of appreciation, the Bhutan Football Federation awarded a cash prize of Nu. 20,000 and a certificate to Paro FC, along with training equipment worth Nu. 40,000. Thimphu City FC also received a cash prize of Nu. 10,000, a certificate for being the top waste management and best advocating club, and training equipment worth Nu. 20,000.
This prestigious award highlights Paro FC's exceptional commitment to sustainability within the football community and serves as a benchmark for other sports clubs to follow. The club's efforts to initiate and implement sustainable practices across various domains are commendable and set an exemplary standard for others to emulate.